In discussing the word essential, as we experience it in working remotely, practically all of the things we find essential were the very attributes that we identified previously in discussing the words presence, commitment, empathy and equality.
We thought about the word essential, in relation to the important elements of culture and core values that we had discussed over the past several weeks: trust, respect, empowerment and flexibility. Interestingly enough, trust, empowerment and flexibility were identified as essential. Additionally, other suggestions such as openness and empathy reflect respect.
Every aspect of communication was acknowledged. Whether it be regular check-ins or communicating deadlines or interpersonal connections. When it comes to the individual, it was acknowledged that it is essential for one to have fundamental competencies, time management skills and to be self-motivated in a remote environment. It was also acknowledged that individuals feel more vulnerable so it is essential that they trust their team members. And importantly, that they have a quiet space to do their work.
The word innovative was expressed. In that regard, job sharing, a universal help desk and technology (both essential to working remotely as well as to work more efficiently) were identified.
Heading into our final brainstorming session next Tuesday, it becomes more and more evident that a firm's culture and core values is the foundation for a productive remote workforce. In addition, we can now develop best practices to create productive, integrated teams by better understanding the needs of a remote workforce.
The next step is to think about how we optimize the talent of our workforce in a remote environment to align with the new law firm model.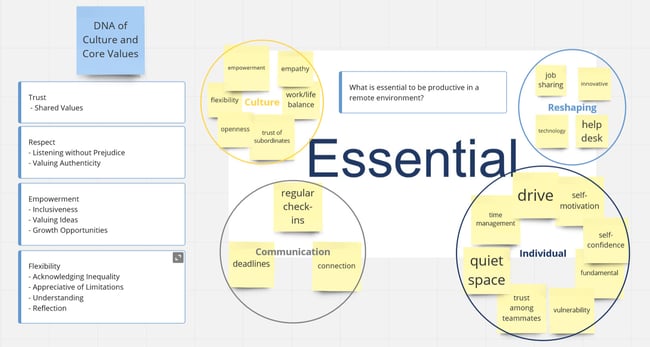 What do you think?
–Bea Seravello, Partner and Co-Head, NewLaw Practice