Thanks for another thoughtful Thinking Out Loud session, this one focused on the word "commitment."
As I review the board, it occurs to me that, with only three exceptions, all the to-dos involve communication. Therefore, to build an environment that will maintain or create commitment in your firm's workforce, you must have a well-conceived internal communication plan in place that achieves open dialogue, transparency and inclusiveness, particularly around an employee's responsibilities and how they align with the firm's goals. And the plan should include many of the attributes we are seeking in remote culture, such as trust, reflection and listening without prejudice. Such a plan will foster employee buy-in, enthusiasm and proactive behavior.
What also occurred to me is that if we are building something better, we should encourage employees to innovate new ways to communicate and to accomplish their work.
In addition to rewarding employee achievement, we should identify ways that we can invest in their careers that go beyond cross training or continued learning.
Teamwork will become even more essential to a more remote work life, especially as we see shifts in roles and responsibilities. For instance, workforce adjustments may include job sharing to accommodate schedules. We need to continue to find ways to get out of our silos and bridge functions and roles.
Lastly, when I look at both this week's and last week's boards, feeling valued, the sense of belonging, trust and expectations are attributes we used in describing both "presence" and "commitment." As we progress through the remaining weeks, we will see whether those thoughts become priorities or influence processes that we implement.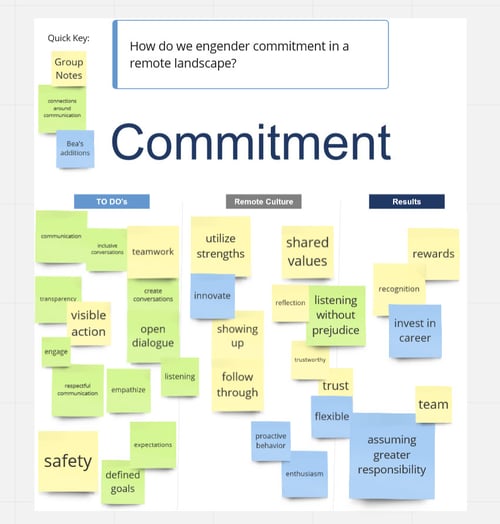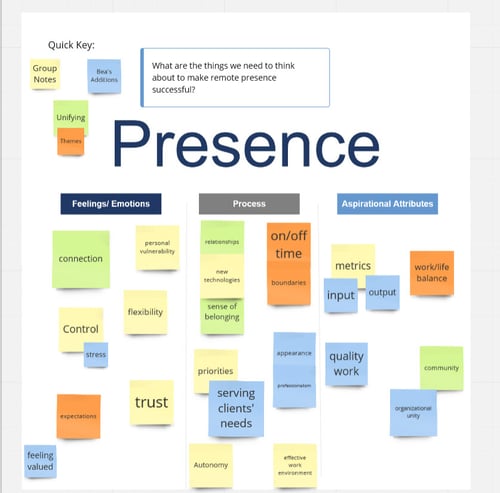 What do you think?
–Bea Seravello, Partner and Co-Head, NewLaw Practice