I really appreciate the interaction we had yesterday!
As I looked at the board afterwards, it seemed clear that the importance of interactivity showed up in each of our categories. In Feelings, it showed up as connection; in Process, it showed up as relationships and sense of belonging; and in Aspirational, it showed up as community.
Other interesting connections in these attributes included, in Feelings, expectations; in Process, on/off time and boundaries; and in Aspirational, work-life balance.
On reflection, here is some more of my thinking that we can include on the board:
Appearance, professionalism, competencies and quality of work (overall performance)–this affects perceptions.
Easy, quick and reliable–for those who enjoy their routines.
To metrics, I would add measuring output and input.
Communication and transparency; real-time feedback and a two-way platform–those things that are hard in person become much harder in a remote environment.
Feeling valued and appreciated–particularly important with all the stress of the multiple shifts in our lives.
Collaboration and organizational unity is very important in a remote environment and has been difficult to achieve in person.
Last, but in no way least, ability to serve client needs.

So, what do you think? Have I left anything out? Do you agree with my thinking? And how would you categorize these thoughts on the board? Use the comment box at the bottom of this page to contribute your thoughts.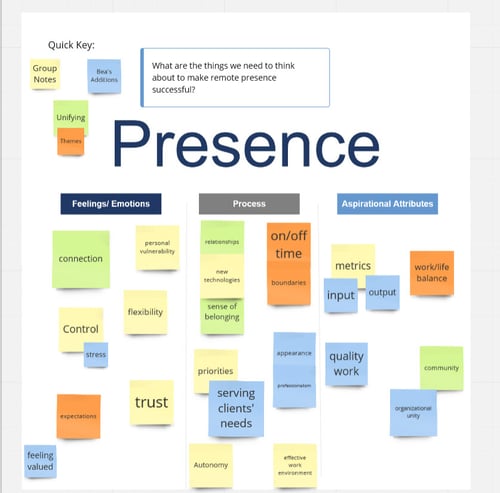 Next week's word is commitment. How do we characterize that in a remote (hybrid) workplace? Does it have a relationship with how we feel about physical presence?
Let's keep thinking!

–Bea Seravello, Partner and Co-Head, NewLaw Practice