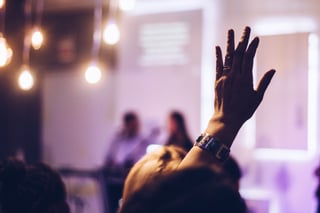 Almost every law firm marketing department devotes resources to content marketing. One of the most oft-cited reasons for developing a content marketing strategy is to position lawyers as "thought leaders." The logic driving this strategy is that establishing oneself as an expert on a topic of relevance to potential clients is a valuable business development tool.
All of that is fine as far as it goes. Despite the prevalence of attorney thought-leadership campaigns, however, there remains a great deal of confusion (particularly among lawyers) regarding what such a campaign actually is. Let's start clearing things up by discussing what it is not.
Attorney thought leadership IS NOT:
Having a blog;
Speaking at conferences;
Setting up a Twitter profile;
Joining an industry association;
Getting quoted in Law360;
Writing a published article; or
Staying abreast of hot topics in your clients' industries.
All the above can be components of an effective thought leadership campaign, but they are merely actions to further a goal, not thought leadership itself. I often hear from law firm CMOs that they find it difficult to help their lawyers truly understand what thought leadership means, because the lawyers become so fixated on the activities (speaking, writing, posting), that they fail to grasp the broader initiative.
Below is a list of five tips that legal marketers can use to keep their attorneys' thought leadership campaigns headed in the right direction.
1. Be Industry-Specific
When it comes to attorney thought leadership, less is more. Many lawyers service clients across a broad range of industries and, therefore, frequently default to a scattershot marketing approach. This can make content marketing a challenge, if not downright ineffective.
Thought leadership initiatives are most effective when they target client prospects within a specific industry sector. There are two reasons for this: 1) attorneys only have so much time to commit to content marketing, so it's better to focus their time on a single industry; and 2) clients are looking for an attorney that not only possesses the requisite legal expertise, but one that truly understands their business and industry. This might seem paradoxical, but sometimes thought leadership campaigns aimed at just one client prospect are more effective than ones targeted to a broad audience.
2. Know Your Audience
One of the first rules of marketing is "know your audience." But this is one of the first things that lawyers lose sight of when they decide to dive into content marketing. Whether speaking at a conference, joining an industry association, sharing a Twitter message or drafting a bylined article, lawyers must always be aware of their audience. Many lawyers write and speak like they are presenting before an attorney audience, but for a thought leadership campaign to truly excel, lawyers must speak directly to the decision makers, compliance officers and risk managers.
3. Think Deeply
Thought leadership requires thought. Usually deep thought. And leadership. This should be self-explanatory, but it's frequently not. One of the most common pitfalls of content marketing is falling into a rut of producing content that is too generic and superficial. To maintain a successful thought leadership campaign, legal marketing professionals must push their lawyers to take the time necessary to explore critical issues deeply, to develop commentary that is nuanced and bold and forward-looking. Thought leaders look forward, synthesizing past and present legal issues into a picture of things to come.
4. Quality Over Quantity
Lawyers' eyes tend to glaze over when presented with an idea for a multi-platform thought-leadership campaign. It sounds like a lot of non-billable work. So, start small and build out from there. After choosing a target industry, researching your audience, and thinking deeply about industry hot topics, it is time to actually generate content. This is where many attorneys jump ship.
Start by identifying a speaking opportunity and developing an industry-specific presentation; by developing an industry survey; or writing a bylined article. Focus the lawyer's energy on this one cornerstone, or "anchor" initiative and then use this success as a launching pad for further efforts. Establish the lawyer's credibility first, and then get to work leveraging it. You don't become a Twitter influencer overnight. Baby steps.
5. Network and Collaborate
Thought leadership, while designed to bring attention to one lawyer or practice group, is a collaborative affair – meaning that true thought leaders engage in a "conversation" with other influencers to address common problems. Be willing to listen to, and work with, other leaders in the field – even perceived competitors. Thought leadership that is insulated feels too much like marketing and not enough like client service. Instead, identify other lawyers, firms and legal consultants who are thinking deeply about critical legal issues, and engage with them. Potential clients will take notice of your willingness to collaborate and lead.
…
Content marketing is here to stay, and legal marketers must embrace thought leadership strategies to drive business development. One of the most critical steps in executing a thought leadership campaign is successfully explaining the purpose and strategy for such a campaign to a busy attorney. The five priorities outlined above are a good place to start in generating attorney buy-in.
Clay Steward is a director at Baretz+Brunelle. Email him at csteward@baretzbrunelle.com.