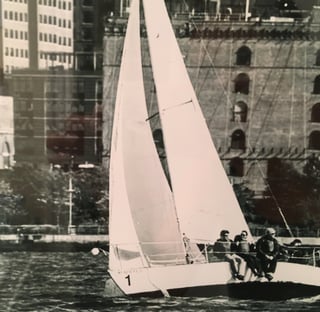 Baretz+Brunelle is lucky and proud to have formed close relationships with several meaningful organizations for which we provide pro bono services. Two of them are having major events this month, and, as it turns out, their timing is perfect.
First, on Oct. 19, the early childhood literacy organization Jumpstart is hosting its annual Read for the Record event, which brings more than 2 million people together in the shared experience of reading the same book on the same day. (This year it's a fun one called "Quackers.") Second, today through Saturday, Hudson River Community Sailing is holding its annual Sailing for Scholars Gala and Regatta. HRCS is a great organization that develops leadership and academic skills in underserved New York City youth through sailing education. (I've competed in the regatta for the past three years and have somehow managed to hold on tight, as you can see in the photo.)
Why is their timing perfect? As it happens, they're occurring at a time of year when those of us in and around the legal industry pay special attention to our responsibility to give back. At the end of the month (Oct. 22-28), the American Bar Association holds its annual National Celebration of Pro Bono. For any lawyers and firms feeling the need to renew their commitment to pro bono service, the ABA's celebration—focused this year on assisting homeless youth—offers helpful resources for getting started.
Happily, in our experience, lawyers don't need any convincing to get involved in pro bono work. We're continually inspired by the devotion we see, from Seward & Kissel's work with Her Justice to Holwell Shuster & Goldberg's work with the ACLU on groundbreaking anti-discrimination litigation to Hunton & Williams's dedication of more than 42,000 hours of pro bono service in 2016.
There's no shortage of reasons to get involved in pro bono work, including the opportunity to develop new skills, to bond with clients who also are involved, and, yes, the occasional PR benefit. But the true reward of pro bono—the reason we're passionate about it, and so many of our clients are as well—is the opportunity to give back to a worthy cause.
If you're feeling inspired, we'd love to see you at HRCS's gala or regatta, or to receive your support for Jumpstart. Let's all make the most of this month to celebrate pro bono.